 Stuck with an anthropology essay with no help in sight? Anthropology essay writing is not a simple task. Not many college students can handle such a paper. An anthropology essay is an academic paper that deals with the study of humans.
Anthropology is a scientific course program with many subtopics, including culture, human behaviors, and social relationships.
Writing an anthropology essay is quite challenging since it covers detailed analysis and interpretation of past historical events. It also entails predicting patterns of human behaviors while evaluating specific cultural aspects to reveal the occurrences at that particular period. Thus, such compositions need comprehensive research and a keen study of different cultures. Besides, you must identify a fascinating topic to compose a winning essay.
Due to the paper's complexities, many students can't craft anthropology papers. It could be because of poor writing skills or inadequate time to write. In such situations, you can seek professional help from our essay writing service. We hire top-rated experts who understand the entire writing process.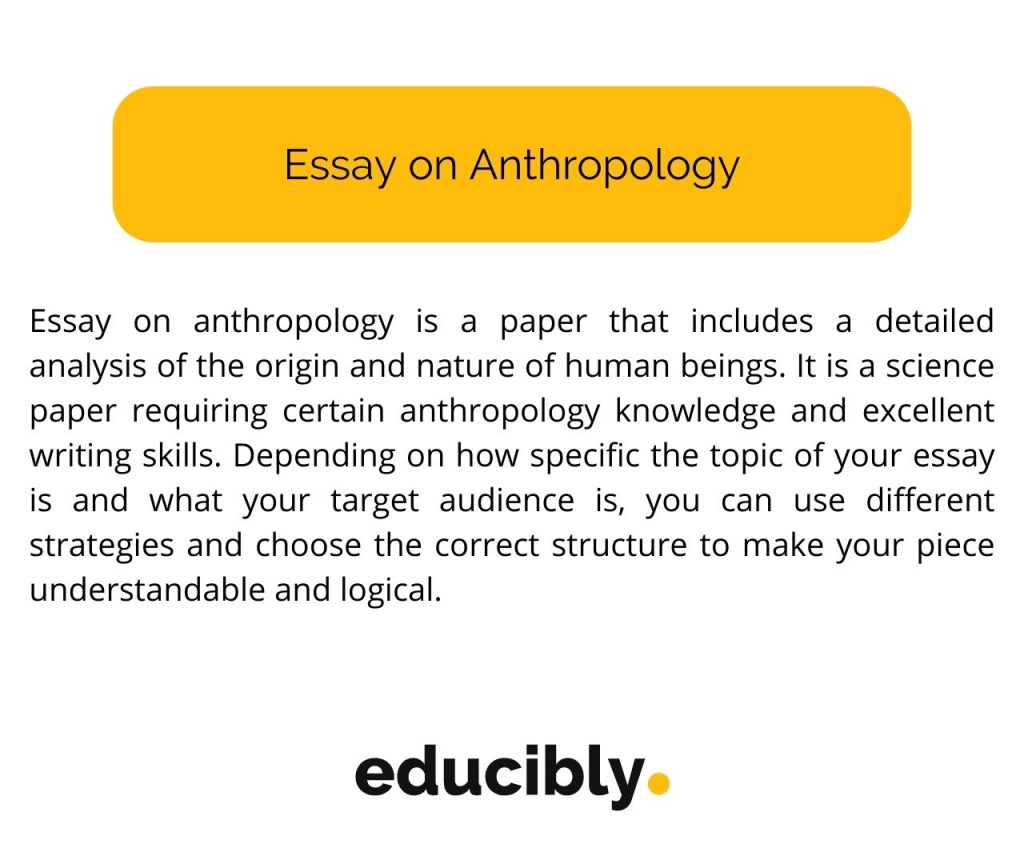 Let us help you get top grades without a hassle while you take an academic breather. You deserve well-articulated essays that will impress your professor. Don't endure burnout from sleepless nights and missed deadlines. Talk to us and get flawless academic papers.
In this article, you will gain insightful tips on writing anthropology papers. We have also listed captivating topic ideas to help you jumpstart your essay.
Writing Assignments You Will Deal with on Anthropology Courses
College students pursuing Anthropology courses often have many assignments to work on as part of the program assessment. You will encounter several disciplines like linguistic anthropology, cultural anthropology, and biological anthropology. You will write many anthropology essays to measure your understanding of this subject's subdisciplines.
To compose winning essays, you need to understand different cultures, evolutionary origins, and human distinctiveness, among other diverse social aspects. It is essential to be familiar with the subject you are writing on to avoid including inaccurate information.
Thus, you need to take time on the topic selection when writing such assignments. This entails an in-depth examination of historical records and information that will lead to a well-researched paper. Your preferred topic should neither be too broad nor too narrow. It helps you get acceptable content that will fit the required paper length.
Let us explore the approach you need when tackling anthropology papers. We have two effective strategies that can help you during essay compositions:
Writing depends on the target audience. You must follow the required academic standards to compose a comprehensible piece for your fellow students. Ensure your format is appropriate; incorporate proper grammar and no spelling errors. This is the personal approach for anthropology writing.
It is imperative to have flowing paragraphs and logical arguments for an exceptional essay. Pay extra attention to editing and proofreading to eliminate any mistakes that might result in poor grades. Not forgetting to cite renowned scientists in this field to make your paper more authoritative.
The general approach involves writing papers for the general audience. It does not cover a specific audience. For instance, you can take a general approach when composing an essay to lure students into studying anthropology.
Avoid technical jargon, complicated concepts, and citations. Instead, take a creative approach with compelling human experiences and less anthropological vocabularies that might scare them. But remember to use trusted sources for citations.
If you can't find the best approach, hire one of our seasoned anthropologists to help you structure your paper flawlessly.
What Is Ethnography?
Ethnography is a discipline of the Anthropology course that deals with individual cultures. It deals with qualitative research that entails investigating a particular community to understand their life and interactions for a particular period.
Such types of anthropological writing require long-term research exercise. Your research can take up to three years to compose an excellent paper. This is because you live with the people to understand their culture and perspective towards life.
Today, most scientists use this approach to derive conclusive analysis about specific cultures. It can go beyond anthropology to other scientific fields of study.
Thus, you can get more insights from an anthropology essay example to format your paper appropriately.
How To Write An Anthropology Essay
Anthropological writing might seem simple, but many students get stuck due to the critical analysis of human life. The compositions will not be complicated if you have the correct format and guidance. First, you need to ensure you get an appropriate topic related to the research prompt. Therefore, take time to identify the best title for your paper before commencing the writing process.
First, make sure you read the prompt keenly to know what is expected from you. You will then brainstorm to identify the significant ideas relating to the topic that you will expound on your body.
Carry out a comprehensive research exercise to get reliable academic sources. This will help you when citing your work to avoid plagiarism claims.
Furthermore, it is imperative to note that the anthropological writing exercise follows the formal academic writing style. You must have the proper essay format that entails an introduction, main body, and conclusion.
The introduction should be attention-grabbing with the proper sentences and a compelling thesis statement. Let your readers know what your research paper entails by stating the main points. Proceed to explain the points in the main body. Each paragraph should start with a topic sentence that reveals the main idea. You must articulate your ideas in detailed explanations with a supporting example. Make sure the paragraphs flow logically and transitionally to avoid confusing the readers.
Finally, conclude your essay by restating the main ideas and revealing the significance of the study. Stick to the relevant ideas you captured in the body. Do not include any new information about the research.
One way of improving your writing is to sample an anthropology essay example from a trusted site. Check out the writing style and the format used and incorporate them into your composition.
However, if you are still experiencing difficulties with the paper's complexities, we can help you compose impeccable content that fits your research question. Let us boost your academic performance with top-notch essays.
Anthropology Essay Topics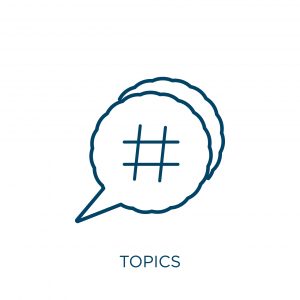 Topic selection is a confusing section for many students. You must pick a relevant topic that relates to the research question. Our experts have listed a few topic ideas to inspire your writing.
Let us explore compelling anthropology essay topics to get your writing on the right track.
Discuss the effect of culture on modern society.
A comprehensive analysis of folklore in ancient times.
Explore the history of indigenous societies.
How do social media platforms impact modern culture?
Compare and contrast forensic science and anthropology.
Explore different gender roles in prehistoric times.
Polyandry and polygamy: An in-depth analysis.
Ethnic cleansing: The influence on contemporary society.
Importance of rituals and pagan ceremonies.
Causes and effect of cultural stereotyping in today's society.
Here are cultural anthropology topic ideas to inspire your compositions:
Explore the role of politics in anthropology.
How does culture influence human practices?
Analyze the impact of cultural anthropologists on society.
Causes and effects of cultural conflicts.
The significance of literature on human culture.
How does religion impact culture?
Analyze agricultural practices in ancient times.
A comprehensive analysis of the Romans.
Causes and effects of cultural behaviors on cultural anthropology.
Analyze growth and development in cultural anthropology.
Below are physical anthropology essay topics to help you select the proper title:
The impact of mythologies in physical anthropology.
The effects of an aging society in a developing nation.
Analyze the impact of ancient piercing cultural behavior.
Explore the challenges of human migration in the 20th
Discuss human evolution: A comprehensive analysis.
Eugenics: The pros and cons.
Preservation of dead bodies: The influence in Ancient Egypt.
The effect of the environment on skin color.
Evaluate physical labor and its effect on humans.
An analysis of death rituals in African societies.
Below are medical anthropology topic ideas for your perusal:
Explore the upsides and downsides of alternative medicine.
Analyze the impact of ethno zoology in medicine.
Discuss the importance of medical anthropology.
How medical anthropology can improve human health.
 What is ethnobotany?
Discuss the history of Chinese medicine.
Impact of drugs on medical anthropology.
A comprehensive analysis of marijuana legalization in developed countries.
Explore the controversies of abortion in modern society.
An analysis of the AIDS epidemic in Africa.
The above anthropology essay topics can help you craft remarkable papers that will score you top grades. Do not let fatigue and anxiety jeopardize your grades. We understand how demanding college life can get; that is why our service is at the forefront in ensuring we help needy students get top-quality papers.
Therefore, don't hesitate to contact us if you need writing assistance.
Exsample #1
Endangered Language in Kundur and Karez-i-Mulla, Southeast Asia
Southeast Asia present a number of endangered languages and one of such is what is found in the villages of Kundur and Karez-i-Mulla, Herat Province in Afghanistan. Mongolian language is the language that Moseley (2010) considers as 'critically endangered.' As a one of the three subfamilies of the Altaic language family, Mongol is considered critically endangered as it is currently spoken by almost 200 old men in the village.
From brief history, during the middle Mongolian period, history witnessed different dialects developing into separate language. The currently surviving language as Mongol in Afghanistan includes Santa (Dongxiang) and Bao'an (Bonan) in the south and Daur in the east. One key property of the language, specifically the aforementioned dialects is that they retained /h/ and /f/ from Proto-Altaic */p/ (this is an asterisk identifies that acts as a sound that is hypothetical or one which has been reconstructed). Furthermore, the language has unassimilated sequences of vowel. What Moseley (2010) gives as an example is the Middle Mongolian e'ü which can be regarded as classical Mongolian having a medial velar, egü. From the classical Mongolian, where other dialects of Mongolian have merged these vowels into a single, lengthy vowel referred to as ṻ.
In terms of the language demographics, this language is currently spoken by only the elderly totaling to about 200 people. Secondly, the 200 elderly speaking the language are among the handful ethnic Moghols found in Herāt in Afghanistan. Owing to the fact that the total numbers of families belonging to Moghols are just a few thousands justifies the language's status of 'critically endangered.' One notable feature of the language that in fact separates it from other Afghanis languages is the fact that it is unique in the preservation of the high back unrounded vowel /ɯ/. The process of the language extinction has been termed as 'rapid' in the sense that it has lost its Proto-Altaic */p/ in as much it can be said to be preserving its unassimilated vowel sequences.
Additionally, the syntax and the phonology of the endangered language have been affected by Persian. Some of effects Persian has had on Mongol are that it has borrowed a large number of words from Persian, including some function words. For instance, there is the word 'Daur' which is not directly linked or related to those other extant Mongolian language.
Endangered Species in Kundur and Karez-i-Mulla, Southeast Asia
One of the species that has been marked endangered around Kundur and Karez-i-Mulla is the Tibetan Black Bear. This animal goes by several other names in the region including Moon Bear, Baluchistan Bear or Baluchistan Bear. One of the challenges facing the animal is habitat destruction as well as hunting for its paws, skin and gall bladder which has been found to be essential in Oriental medicine. Furthermore, people are Kundur and Karez-i-Mulla consider Kundur and Karez-i-Mulla to be nuisance and destructive because they feed on domestic livestock and crops. Unfortunately, there have been reports of the animal attacking people especially children and women in the regions bordering Kundur and Karez-i-Mulla.
On physical appearance the animal is black with distinctive white crescent marking on the chest. The species is smaller in size and appearance when compared with its better-known American black bear. One feature that makes that animal adaptive to its environment are its large and rounded ears, pointed snout, sharp claws and excellent swimmers and climbers making them feed on their prayers with a lot of ease.
At the moment, there are three distinctive activities that have threatened the continuity of the animal. First, Kundur and Karez-i-Mulla where Mongolian language is common is characterized by settlements in mountainous areas. This development has led to the increase in human caused or Mongolian caused mortality. That is, there have been increased human-caused rates of mortality for the species as a result of settlements in the forest. Secondly, Baluchistan Bear has been endangered by commercial trapping, livestock depredation control, unregulated hunting and habitat deterioration. The third concern for the continuously decreasing number of Baluchistan Bear has been the perception that Baluchistan Bear have been a threat to human life around Kundur and Karez-i-Mulla. As a matter of fact, this is the reason where the association between people and Baluchistan Bear has been minimal leading to its endangering.
How Specie and the Language are Endangered
On the other hand, Baluchistan Bear and Mongolian language have been endangered as a result of changes on human activities and migration. To conceptualise this point, recreational development, energy and mineral and road building are some of the issues that have been behind the decrease in number of Baluchistan Bear in Kundur and Karez-i-Mulla. Comparing the situation with the endangered Mongolian language the situation has been opposite. The spread of Mongolian language is going down as a result of the dying members of the family with little or no trace of documented or written language. This situation has brought the loss of essential ancestral knowledge that was once embedded in people's culture.
Reference
Moseley, Christopher (ed.). 2010. Atlas of the World's Languages in Danger, 3rd edn. Paris, UNESCO Publishing. Online version: http://www.unesco.org/culture/en/endangeredlanguages/atlas
Example #2
Assignment 2
Name:
Institution:
Date:
QUESTION 1
Minorities
The minorities in South East Asia comprise of the non-indigenous minorities including immigrants as well as their descendants who have adapted into the local culture. Ethnic minorities across Southeast Asia continue to face very real clashes with their nation states regarding sociocultural and political differences. Some indigenous political representatives try to covert ethnic/cultural specificity into some special collective rights at the national level and international fora regarding indigenous people (Swearer, 2012). Minorities' communities within Southeast Asia have found democratic space to express and represent their cultures and values. Immigrants have shaped the political landscape in Southeast Asia. Authoritarian regimes have not given much space to minorities within their population.
Poverty
There is an amazing persistence of poverty despite the rapid economic expansion in Southeast Asia. Poverty has declined largely in the last 30 years in most regions of Southeast Asia. The reduction in poverty has happened despite growing inequality. Long-term economic growth was been consistent in most parts of Southeast Asia despite the setbacks such as the financial crisis of 1997-98. Economic growth has not led to total reduction of poverty due to inequality. Absolute poverty has reduced over time due to economic growth. The overall record in poverty reduction and growth has not been uniform in Southeast Asia as experiences in states like Philippines, East Timor, Indonesia, Lao, Cambodia, Vietnam and Myanmar. Southeast Asia has performed well in poverty reduction and economic growth (Ananta & Barichello, 2012). The economic crisis in 1990s negatively affected the achievement of the Southeast Asia population. An obvious manifestation of poverty is malnutrition. Malnutrition reduces poverty alleviation efforts.
Kingship
Southeast Asia concepts of kingship as well as traditional legitimacy were not incompatible with other autochthonous patterns that existed. Regarded as against their Buddhist and Brahmanic background, concepts of kingship in Southeast Asia are not separable cosmology of a man's world. Kingship post 1800s is a thing of the past in the Southeast Asia as modern democracy and civilization takes place. Authoritarian regimes have transformed to democracies or allowed open economy. Monarchical tradition within Malaya presently indicates that even Islamization within Southeast Asia did not impact the Hindu vision of the King being the preserver of the balance system within the Universe (Swearer, 2012). Divinity intertwined with Kingship in Southeast Asia. The concepts of kingship are continually fading within the Southeast Asia region.
USA
Development in Southeast Asia has been largely shaped by interaction with other more powerful regions. Southeast Asia has a long history of crucial economic and security ties with the United States and is a very good place of strategic interest. In the course of the Vietnam War, Southeast Asia countries were ideologically divided as well as feuding. There was a simmering feeling of reorganization that begun with economic development through forming a trading bloc. The United States has to maintain regional security through making sure it has a credible military presence, viable regional training as well as a support structure. The United States cannot ignore the region with its vast population and importance in regional balance and stability. The USA objective in the region is very complex and not merely balancing against China (Chou & Houben, 2006). The US alliances with Thailand and Philippines represent two outstanding stand of interest. The Philippines is important in the management of the downside risk while Thailand's significance is in its potential in assisting in maximizing the upside of the order. Southeast Asia is very significant to the USA foreign policy.
Democracy
Southeast Asia region represents an interesting as well as significant arena for democratization in the world. The transition from authoritarian rule within the region to democracy in some countries like the Philippines has attracted a lot of attention. Political systems within Southeast Asia range from democracies to single-party states as well as some societies controlled by the military. There are countries were democracy is established and state leadership is normally elected. Some democracy is still at its infancy stage but is gradually being established (Chou & Houben, 2006). Some countries in Southeast Asia have their government structure with combined characteristics from different societies and political structure operate between military rule and democracy. Some countries are single-party states but have opened up their economies like China and are undergoing economic reforms. Democracy in some countries is still a long way coming. They take strategic advantage regarding static ethnic stereotypes of the colonial kind as being part of the decolonization process.
Essay Question 1
Women within the Vietnamese culture are found in a disadvantaged position. The women do not have jobs outside of the house and up brought out more strictly as compared to men. Paradise for the Blind shows the resilience and power of women to be patient and ensure whatever they go through life. Mother to Hang lives in Hanoi for 10 years until the husbands shows up one day. Hang's father kills himself out of shame since he cannot stand the repercussion of what he has done (Duong & McPherson, 2002). Women in Vietnamese culture structure to fend for their families by working hard. Hang mother despite the poverty level in Hanoi struggles to sell snacks to earn a living. Hang's aunt does back-breaking work in rebuilding life for herself. She is much respected in the community since she has built herself a fortune through sheer hard work. Her uncle just wanted to take advantage of women and situation in life to make it but the women work hard to get what they have. In Re-branding Islam women's resilience stands out despite the religious discrimination that they face. In both Re-branding Islam women play an important role in growing the economy of the country. Although women suffer because of how they are regarded in the society they play important part in bringing up their children and determining the destiny of men. In Indonesia where the Islam culture is prevalent, women are disadvantaged despite their struggles in everyday life. Family values play an important role in the two scenarios giving women the strong will to achieve in life (Hoesterey & Hoesterey, 2015). The family values make the women to be determined and sacrifice on behalf of their children and family. Family values bind the women to their goals and they struggle to make the family a success. The role of women as a bedrock of the society and family wellbeing cannot be disputed in both cases.
References
Ananta, A., & Barichello R.R. (2012), Poverty and Global Recession in Southeast Asia, Institute of Southeast Asian Studies,
Chou, C., & Houben V. (2006), Southeast Asian Studies: Debates and New Directions Institute of Southeast Asian Studies
Duong T.H., McPherson, N. (2002). Paradise of the Blind: A Novel, HarperCollins, 2002
Hoesterey, J.B., & Hoesterey, J. (2015) Rebranding Islam: Piety, Prosperity, and a Self-Help Guru, Stanford University Press.
Swearer D.K. (2012). Buddhist World of Southeast Asia, The: Second Edition, SUNY Series in Religious Studies, Bangkok: SUNY Press.
Example #3
The main finding in the subject chapter seems to indicate that reciprocity and exchange patterns in Japan are asymmetrical, while Americans showed more symmetrical exchange and reciprocity patterns. In other words, the old in Japan would accept gifts and/or help from family members and repay it in kind. However, their American counterparts could only accept gifts and/or help if they had the capacity to reciprocate the gesture with material resources, e.g. by re-gifting the giver or helper. The theme that emerges from Akiyama et al. (2009) however seems to indicate that reciprocity and exchange is a mechanism that the old people perceive as necessary in the creation of stable relationships.
The foregoing theme has been discussed elsewhere in literature where it is indicated that when old people become perennial receivers of gifts and help, they deem themselves as unbefitting of such handouts (Fyrand, 2010; Thompson, 2013). Specifically, the old people feel as if they owe people who help or give them material or moral support too much. Their inability to pay the material or moral debt to their younger givers or supporters leads to a situation where they (the old people), can no longer relate well with givers or helpers.
As Fyrand (2010) notes, the unbalanced relationship between the giver and the receiver (old people) can result in mental distress occasioned by feelings of unworthiness in the latter. Ultimately, the old recipients of gifts and/or help may discontinue the relationship. Interestingly, Akiyama et al. (2009) found out that while old people in Japan (especially women) readily accept support from their children, their counterparts in the US do not readily accept such support and/or gifts unless they are able to repay it in a similar manner.
For example, while the old in Japan accept the help offered by their daughters-in-law, they 'repay' the kindness through appreciation, affection, love, and elevating their supporter's position in the society by talking positively about them.
Example #4
In Jewish history for instance Abraham is the first recorded monotheist, but around him, other people were still at a magical/animistic/polytheistic stage. The same was still true in the time of Moses when Egypt worshipped many gods, and whose priests were often magicians, and even on into New Testament times when Jewish and Christian monotheism stood alongside Greek and Roman polytheism. The societies involved later moved to a scientific approach, especially in the Scientific Revolutionary period which began in the late medieval period and continued until the time of great thinkers such Isaac Newton, and of course in one sense has continued to the present day.
What Copernicus and others did was reject the then teaching of the Roman Catholic Church regarding astronomy etc, because by direct observation they were able to see that it was wrong. This did and does not necessarily mean that they rejected God. There are fundamentalists who believe in a literal 7 days creation story and other Christians who accept the scientific explanations of gradual evolution, but who still believe that God was the prime cause. For the latter, the two 'stages' of religion and science run in parallel with no apparent problem.
At what stage are they? In the late 1800s by Draper and White claimed religion and science are automatically enemies. Craig Rushbolt in his 2004 article 'Relationships between Science and Religion: Conflict & Warfare?' points out how their books:- Each painted a picture of history as a conflict between the rationality of science (earnestly searching for truth) opposed by the stubborn ignorance of religion (stubbornly trying to block scientific progress), with science fighting valiantly This he says is not a true picture because it is both over-simplistic and inaccurate.
It would perhaps be truer to say that there was a conflict between the authority of the church with its dogmatic ideas and those who thought independently.