 Students are often assigned to write a reflection paper at college. This assignment shows how education receivers can analyze their life experiences and measure changes. It is crucial for developing writing skills and reviewing studying progress. But when it comes to writing a reflective essay, students struggle with what to start and how to end the paper.
It can be a stumbling point for your academic success if you are not well aware of reflective essay writing principles. A proper guideline can help you represent your life experience in a paper. This article will teach you how to create high-quality reflective essays with the right structure and meaningful content.
All You Need to Know About a Reflective Essay
A reflective essay is a type of academic writing where you explore your experiences, thoughts, and opinions and measure their influence on you. In this paper, you introspect on a specific issue and share your opinion with the audience. It's a subjective paper written in a personal tone.
The topics of reflection papers may concern students' experiences and how they shaped their personalities. But there are also general issues to contemplate, like art, politics, social changes, and how they affect your life. Consider that reflective essay writing is quite a popular assignment at schools, colleges, universities, and work.
So it's vital to know how to correctly express your ideas and identify cause-effect relationships.

What to Write About in a Reflection Paper
When you need to compile a reflection paper, consider that it should be personal work to engage readers. You do not have to recount a life story but reflect on your experience and its impact on behavior and life. These can be positive and negative life events that have shaped your personality.
Depending on the essay subject and requirements, write about a real-life or imagined experience. Your essay can also tell about a certain place, person, event, art piece or scientific discovery that influenced you. A tutor can assign you to reflect on the outcomes of some important decisions in your life.
Make sure to include the aftermath of the experience, so the essay doesn't look like storytelling. Let's look at a reflective essay writing guide.
Dwell on the Topic
The choice of reflective essay topic ideas is limitless. When you know how to choose the right topic, you will be a step closer to writing a successful essay. It should catch the audience's attention and allow you to express your thoughts and emotions fully. The right reflection paper topic enables readers to understand what message you want to convey clearly. Try not to choose a broad topic, but it should not also be too narrow.
The paper subject needs to be engaging to people and cover your personal experience. A reflective essay topic should be beforehand interesting to you. Once you are excited about the issue, it will not be boring for others to explore your sensations and opinions.
Know Your Subject
When writing a reflective essay, you should be well knowledgeable about the subject. A reflective paper on Biology will differ from the one on Literature. You should choose vocabulary and adjust the essay tone. And you can not solely reflect on some events in your life.
College reflection papers concern some science and art issues. And a student should investigate them thoroughly to be able to reflect on them. Writing experts also recommend recalling feelings one has experienced during the event or after reading a book or watching a film.
It is your reflection, and you are free to cover the subject based on your subjective evaluation.

Select Questions for Reflection
Starting your reflective essay, you should choose what questions to contemplate. The issue you cover should not only be interesting to you but also to readers. Therefore, it's crucial to identify your target audience and know their interests. In a reflection paper, an author should tell about some compelling events and personalities and link them to their personality development.
Questions to include in reflective essays are different and depend on your paper topic. So make sure you do not focus on one issue aspect in your work but explore it from various angles.
Answer these Questions
Once you pick up relevant questions to cover in your reflective essay, provide meaningful answers to them. Your paper is built on the model of raising a question, sparking readers' curiosity, and then giving an engaging answer.
Make your reflective writing smooth and informative so that the audience enthusiastically moves from one question to another. But it's vital not to overwhelm the paper with questions. Raise issues you can cover and back up with credible sources.
Posing and answering questions should not look like a conversation or a dialogue. Stick to an academic writing style but try to connect with the audience appealing to them.
Define Your Experience Value
Before writing a reflective essay, the author should evaluate their experience. Once you need to reflect on some personal things from your life, make sure it's worth sharing. A great reflective essay has to be relevant, meaningful, and engaging to people. It seems easy to identify the meaning of your experience, but you should analyze facts and organize evidence. Select the most crucial thing you want to dwell on in a reflective essay.
This core idea will be your thesis statement that you need to support with arguments. It should reflect the significance of your paper and directly answer the question set in a topic.
What Reflective Essay Topic to Choose
Choosing a topic for your reflection paper can be daunting as there is so much to cover, but when it comes to reflecting on something, many are lost in contemplation. Selecting a topic for your reflective writing can be based on your academic level, tutor's requirements, subject, and personal preferences. Here we'll briefly outline what essay subject you can choose.
Middle school students can write an essay on the first time they did something, visited a place, or experienced a certain feeling. They can write about something they adore, dislike, are afraid or dream of. At first sight, they seem simple but have philosophical ground.
High-school students also have a broad choice of topics for reflective essays, ranging from traveling to working on scientific projects. They can express their views and share experiences about social media, video games, memorable events from communication with peers, important things in their life, etc.
It may be challenging for college students to choose what to outline in an essay. They can also reflect on relationships, volunteering, voting, getting a lob, and more.
All students can write an essay about their first experiences, places, people, events, characters, emotions, feelings, relationships, nature and climate. Choose the topic that interests you and create an engaging paper reflecting your attitude and views.
Structure of a Reflective Essay
Before starting working on your reflection paper, you should prepare a well-structured plan. It allows the writing process to be coherent, logical, and clear. You will get higher marks if you develop a paper outline. When people write reflective essays, they may lose in recalling their life experiences and present them disorganized. Creating an essay plan will help a writer stick to the subject and include all crucial aspects in the paper.
Advantages of developing a reflective paper structure include incorporating basic details and removing superfluous information. A writer can have a clear line of thought that is easy to understand by the reader. Creating an outline helps save time as you have a plan of what to dwell on in the paper. A well-structured reflective essay ensures it looks professional and makes a positive impression about your work.
A reflective essay on any topic consists of an introduction, body paragraphs, and a conclusion. So let's explore these paper structure elements in detail:
An Introductory Paragraph
When writing a reflective essay introduction, you do not have to think much about what to write in the first paragraph. All essays have a similar introduction structure and consist of a hook, definitions of terms, and a thesis statement. Try to make it engaging to encourage readers to move on and explore your reflections on some issues.
A great reflective essay should have a compelling hook. It grabs the audience's attention, making them laugh or curious. Here you can tell an anecdote, include a relevant quote, and add eye-opening facts or statistics.
In the thesis statement, tell briefly what your paper focuses on but avoid going into detail. Outline your major experience in a clear, meaningful, and engaging manner. The last sentence of your intro should smoothly lead readers to the next paper section.
Body Paragraphs
Good reflection papers should have about three logically connected body paragraphs. Every new argument needs a separate paragraph related to your thesis statement. Each body paragraph should have the following structure:
A topic sentence stating the main idea
An explanation with examples
An analysis of the idea
Use only repeatable sources to support your ideas. This part of your reflective essay is the most difficult and voluminous. It is easy to get lost in the flow of your thoughts so take a chronological approach.
Describe different events related to the subject in succession. It ensures a logical and coherent representation of life experiences. Do not include all events. Pick up important elements and place them together in a timeline. Your reflective writing is not a plain summarizing of experiences. It is necessary to investigate how they influenced your life.
Concluding Paragraph
And the final part of your reflection paper is a conclusion. Here you should repeat the thesis statement, review the main ideas, and finalize the essay with a call to action or a captivating quote. A tutor will pay attention to high-quality evidence of reflection. You do not have to introduce any new information but bring all the crucial pieces mentioned in the article together.
Briefly tell what the outcomes of certain events and experiences were. If there were some changes in your personality, highlight them in a final paragraph. It'll also be a good idea to trace the impact of your experiences on your skills and knowledge.
When you write a reflection paper conclusion, think about your actions, why they were such, and what would be the result if you approached the situation differently. You can describe your plans for the future for a last positive impression of your work.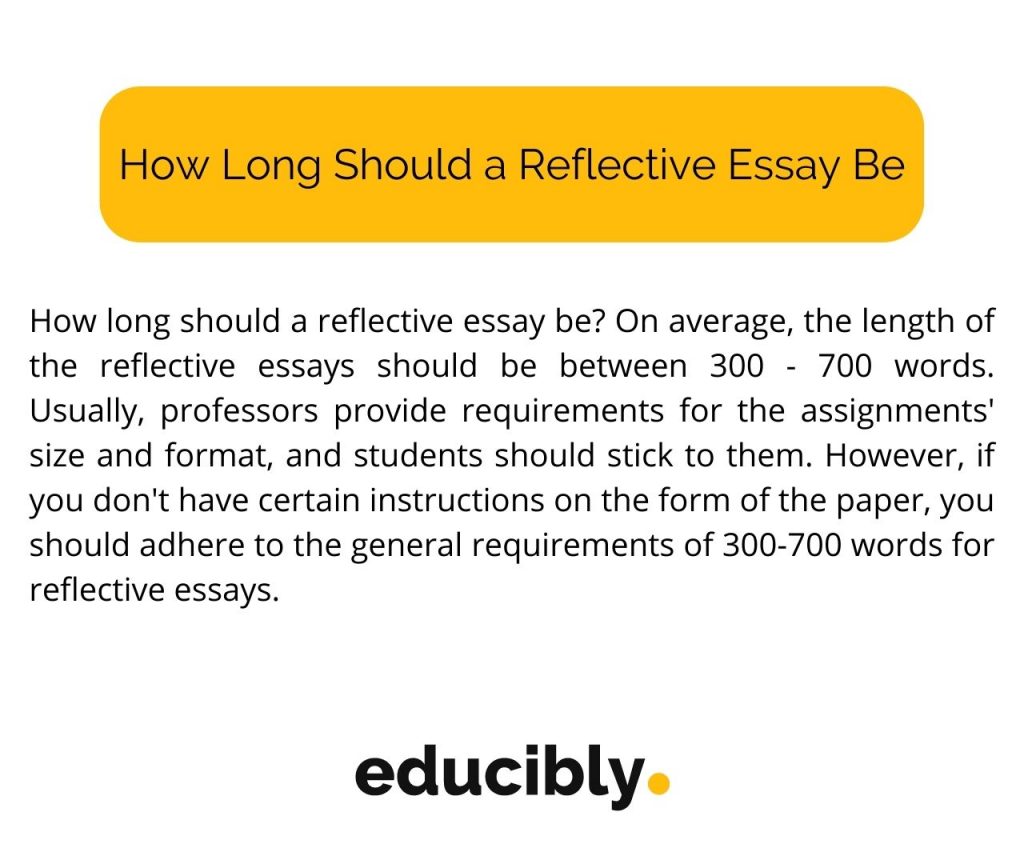 Format of a Reflection Paper
Each paper has its specific writing format, and the one of a reflection paper differs substantially from the formats of their essay types. It may seem that writing a reflective essay is like compiling a diary entry. But the situation is different, and it's a well-structured paper with reflection and insight.
As a rule, tutors require a reflection paper to be created in the MLA format or the APA style. Professors provide certain reflective essay writing instructions concerning length, fonts, margins etc. But if there are no such specific recommendations, your paper length should vary from 300 to 700 words.
And general advice is to avoid colloquial language despite the paper being about you. Let's explore two popular paper writing formats in detail:
MLA Paper Format
The Modern Language Association format is uniform and consistent. It is perfect for writing a reflective essay as it allows smooth reading. The formatting basics include 12-point size, Times New Roman font, double-spaced, 1-inch margins on the top, bottom, and sides.
The header of reflection papers should contain your name, professor's name, course number, and date. Center titles and include last name and page number on every top right of a page. There should be a page with Works Cited.
APA Essay Style
The reflection paper written in the American Psychological Association style has three main components: the title page, the essay, and the reference list. A writer should choose a readable font like Sans-Serif font: Calibri, Arial or Serif font: Times New Roman, Georgia.
Font sizes range from 11 to 12 with a double space and 1″ margins. The reflection essays should include a page header and number on every page.
Tips for Writing an Effective Reflective Essay
With these useful tips, you will benefit from incredible results from writing a reflective essay.
Professionalism
When writing an essay, adhere to academic writing requirements and do not use slang, abbreviations, colloquial language, etc. Do not present unnecessary details and follow a professional writing style.
Consider What You Write About
Although you incorporate personal feelings and emotions in a perper, it should still look professional and objective. It's vital to strike a happy medium and not dive into subjectivity with this personal writing. Make sure twice that some details are relevant to include in the essay. If you see that describing some experiences is uncomfortable, try to cover them generally.
Double-Check
It is necessary to review the paper carefully to avoid any mistakes or typos. Make your sentences short and focused on one point. They should have a purpose and a logical end. You can use special programs for checking spelling and grammar in your work. It's possible to ask an editor, professor, or friend for proofreading.
Smooth Transitions
You should connect your ideas, sentences, and paragraphs with smooth transitions. There are special transitional phrases that will help you look professional. They include such words as but, first, second, next, then, after, for instance, accordingly and more.
Reflective Essay Common Mistakes
You know that for good reflective writing, it's required to express your thoughts and emotions about certain events clearly. It helps improve critical thinking skills and build your opinion on any issue. Students often make the same mistakes creating their reflective essays. Here we'll outline them for you to avoid in your future work:
It is a mistake when a reflection paper consists of too much personal information that looks irrelevant. You should analyze the event from the view of your experience but not tell your life story.
A lack of personal touch in a reflection paper is considered a mistake. Connect with your readers, appealing to their emotions and addressing them directly.
Your essay cannot consist of all experiences, and you should select the most significant life moments.
Students fail to structure their thoughts logically, and their work looks like a free-flowing analysis.
Another pitfall is essay structure. Many students ignore it, and their essay looks incoherent. This text is difficult to understand, so make sure your paper is well-structured.
Sometimes students forget that they have completed an academic assignment and include colloquial language in their essay. Reflecting on your life experiences doesn't mean you should be informal. Stick to a formal tone in your paper and avoid this common mistake.
On the other hand, using difficult-to-understand vocabulary and complex structures doesn't make a good essay. Consider that readers should comprehend your ideas and not feel confused.
It is a mistake to moralize people's behavior. The events should be described accurately and objectively without losing a personal tone.
Conclusion
Now you see that nothing is challenging in creating a decent reflection paper. Follow the guide on the reflection essay outline, dormant, and writing tips, and you will achieve success. However, if, for some reason, you struggle with generating a paper, you can address our essay writing service for academic writing assistance.
Here you can find many professional writers ready to generate a high-quality essay on any academic level, on any topic, and follow any deadlines. Feel free to contact us anytime you need and get an engaging reflective essay.